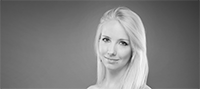 Research interests
Research area: Music Migration in the 17th, 18th century, 19th and the beginning of the 20th century, 18th- and 19th-century Music, The development of Violin Playing in the Slovene Lands, The Impact of Prague Violin School throughout Europe, Immigrant Musicians in the Slovene Lands.
Curriculum Vitae
Maruša Zupančič graduated in musicology at the University of Ljubljana in 2007. In the same year, she got engaged as a junior researcher at the Institute of Musicology ZRC SAZU. In 2012, she completed her Ph.D. at the University of Ljubljana with a dissertation on the development of violin playing in the Slovene lands until the beginning of the Second World War. Since 2015, she is a research fellow at the Institute of Musicology, where her work is focused primarily on music migration and the development of violin playing in Europe from the 18th until the 20th century. In 2006/2007 she studied at the Masaryk University in Brno and in 2008/2009 at the Charles University in Prague, where she was doing also an internship at The Institute of Ethnology of the Academy of Sciences of the Czech Republic. For several months, she furthered her studies in Boston and New York in the United States and in Leuven, Belgium. In 2017, she was on a one-month research visit at the Croatian Academy of Sciences and Arts as well as at the Croatian Music Institute in Zagreb. She regularly presents her findings at the International Musicological Conferences and specializes in Digital Humanities:
"Visual Analysis with Digital Tools", Göttingen Center for Digital Humanities, Germany, 2014
"Digital Humanities at Oxford Summer School: Digital Musicology, University of Oxford, United Kingdom, 2016
 "Nodegoat Workshop", Lab1100, The Hague, The Netherlands, 2018; "Cultures of Dissent in Eastern Europe (1945-1989): Research Approaches in the Digital Humanities", Central European University, Budapest, Hungary, 2019)
"Workshop Nodegoat", The Huygens Institute for the History of the Netherlands (Huygens ING), Amsterdam, The Netherlands, 2020
"Transkribus User Conference", University of Innsbruck, Innsbruck, Austria, 2020.
 
In 2018, she received an international certificate "Digital Marketing Professional" (Digital Marketing Institute, Dublin, Ireland). She is a member of several international musicological societies and organizational boards.
Research areas
Musicology H320
Keywords
Music of the 19th and 20th century • Music migrations in Europe • music institutions • music performance • digital humanities
Recognitions & awards
The Student Prešeren Award of Faculty of Arts in Ljubljana (2007) • Erasmus Grant, Masaryk University Brno, Czech Republic (September 2006–June 2007) • Czech Republic Government Scholarship, Charels University, Czech Academy of Sciences, Czech Republic (November 2008–March 2009) • ZRC SAZU Research Grant (November 2009–February 2010: Boston, U.S; New York, U.S)