Researches in the History of Music in Slovenia
Basic Info
Principal Investigator at ZRC SAZU

Metoda Kokole, PhD

Original Title

Raziskave slovenske glasbene preteklosti

Collaborators

dr. Matjaž Barbo

,

dr. Katarina Bogunović Hočevar

,

Nataša Cigoj Krstulović, PhD

,

Klemen Grabnar, PhD

,

Metoda Kokole, PhD

,

dr. Aleš Nagode

,

dr. Svanibor Pettan

,

dr. Gregor Pompe

,

Jurij Snoj, PhD

,

Katarina Šter, PhD

,

dr. Vesna Venišnik

Code

P6-0004

Duration

since January 1, 2015 to December 31, 2021

Financial Source

Javna agencija za raziskovalno dejavnost Republike Slovenije



Description
The research programme, conceived for 2 FTE and a period of six years, consists of three segments. The first is research into the history of music in Slovenia, especially the edition of the fourth book of the new History of music in Slovenia, which is to cover the most recent period, i.e. 20th century. Planned is also a conception of one-volume version of the history of music in Slovenia limited to the presentation of main evolutional traits and facts, and will be written in such a way that it will be accessible also to non-musicologist scholars and other readers. The second segment covers research on various lacunae detected in the known history of music in the territory of the present-day Slovenia and publication of articles and monographs on these subjects. Among the more important planned studies are: a monograph on the so called Hren's codices that is to examine the prehistory of a group of manuscripts from the beginning of the 17th century containing sacred polyphony that were in possession of the Ljubljana Prince Bishop Tomaž Hren/Thomas Chrönn; a collection of studies on specific aspects of medieval plainchant manuscripts from Slovenian institutions that will in the form of independent yet related studies the monograph present the main characteristics of the plainchant manuscripts used in Slovenian churches in the Middle Ages. In preparing the new History of music in Slovenia, a lack of modern monographs on important composers came into view. The first composers to be dealt with in the form of a monograph are to be Jakob Frančišek Zupan/Jakob Suppan (1734–1810) and Hugolin Sattner (1851–1934).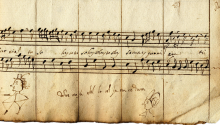 Results
Bibliographical results of the researchers at the Institute of Musicology
MONOGRAPHS
CRITICAL EDITIONS OF SOURCES in the series Monumenta artis musicae Slovaeniae
THEMATIC VOLUMES OF SCHOLARLY JOURNAL De musica disserenda
JOURNAL ARTICLES AND OTHER SCHOLARLY TEXTS (organised according to chronological order of researched subjects)
Middle Ages
16th and 17th centuries
18th century
19th century
20th century
Organised Conferences
The Parnassus Musicus Ferdinandaeus (1615). Ljubljana, 15.–16. 10. 2015.
Syntagma Musicum 1619 ~ 2019. Ljubljana, 8.–9. 4. 2019.
Concerts
CONCERT CYCLE Harmonia concertans – Old music at New Square (from 2011 on; 4–6 concerts in each season): http://hc.zrc-sazu.si/
Exhibitions
KOKOLE, Metoda. Glasba in ples pri Attemsih : spremljevalna razstava ob razstavi Štajerski Herkul, Grad Slovenska Bistrica, 15. jun.-30. sept. 2017. [COBISS.SI-ID 41831725]
KOKOLE, Metoda, MUROVEC, Barbara, KOKOLE, Stanko. Imago musicae : glasba na baročnih poslikavah brežiškega gradu : postavitev medinstitucionalne občasne razstave, Galerija Posavskega muzeja Brežice, 21. apr. - 19. okt. 2016. [COBISS.SI-ID 39790893]
TRČEK MARUŠIČ, Katarina. Potujoči orglarski mojstri in preplet njihovih poti na Kranjskem : tradicija orglarske delavnice Marcusa Göbla : razstava, Atrij ZRC SAZU, Ljubljana, 1. okt. 2015. [COBISS.SI-ID 38972205]
Keywords
reflection on music
reception of music
music performance
composition
music genres
music institutions
Slovenian composers
Slovenian cultural history
history of music in Slovenia
history of music