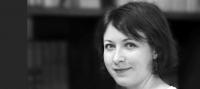 PhD in Musicology, university graduate diploma (MA) in Comparative Literature and Literary Theory
Research interests
Research areas: liturgical plainchant, medieval monastic musical traditions in the Slovenian lands, interdisciplinary research into connections between literature and music
Research interests
Katarina Šter's scope of research consists mainly of the liturgical plainchant of the medieval monastic orders, with special emphasis on the chant of the communities flourishing on the territory of today's Slovenia. Her work has focused on the medieval antiphoners coming from the former charterhouses in Slovenia, and on Carthusian liturgical and musical tradition in general. Recently, it has been expanded by the comparisons of this tradition to other liturgical traditions. The interdisciplinary research of connections between word and music in the early vocal music has remained one of her main interests all along as well.
Other engagements
Since the start of her work at the Scientific Research Centre in 2005, Katarina Šter has been a member of several committees and editorial boards. She has been a member of the Coordination Committee and Editorial Board of the Historical Seminar of the Scientific Research Centre of the Slovenian Academy of Sciences and Arts – ZRC SAZU (from 2006; President in 2013/2014), as well as a member of the editorial boards of the musicological journal De musica disserenda (from 2012) and e-monograph series Slovenska glasbena dediščina (Slovenian Musical Heritage; from 2012). She is also a member of the executive board of the Slovenian Musicological Society (from 2012) and a member of the Slovenian Society for Eighteenth-Century Studies (from 2007). She has edited and co-edited several volumes of the interdisciplinary monographs Historical Seminar and a volume De musica disserenda IX/1–2 which was dedicated to Gregorian chant. She is also a director of the ensemble insula memoriae, an amateur group specialized in Gregorian chant and Renaissance music.
Selected publications
"Resacralization of the sacred: Carthusian liturgical plainchant and (re)biblicization of its texts." Muzikološki zbornik 50, no. 2 (2014): 157–180.
Srednjeveški koral v kartuziji Žiče: Pogled skozi oči najstarejšega samostanskega antifonarja [Medieval Plainchant in the Charterhouse Žiče: Observing through the Eyes of the Eldest Antiphoner of the Monastery]. Elektronska izdaja. Slovenska glasbena dediščina [Slovenian Musical Heritage], 3. Ljubljana: Založba ZRC, ZRC SAZU, 2013. http://ezb.ijs.si/fedora/get/ezmono:skkz/VIEW
"Koralni rokopisi slovenskih kartuzij." ["Plainchant manuscripts of the Slovenian charterhouses."] In Zgodovina glasbe na Slovenskem 1: Glasba na Slovenskem do konca 16. stoletja, edited by Jurij Snoj, 137–217. Ljubljana: Založba ZRC, ZRC SAZU, 2012.
"Between uniformity and diversity: Medieval antiphoners of the Charterhouse Žiče in the University Library of Graz." In Kartäusisches Denken und daraus resultierende Netzwerke vom Mittelalter bis zur Neuzeit, Analecta cartusiana, 276/5, edited by James Hogg, 111–144. Salzburg: Institut für Anglistik und Amerikanistik der Universität Salzburg, 2012.
"Variantna intonacija osmega psalmovega tona v kartuzijanski liturgični tradiciji." ["Variant eighth-psalm tone intonation in the Carthusian liturgical tradition."]. De musica disserenda 7, no. 2 (2011): 75–93.
All publications (COBISS) >>
Curriculum Vitae
After studies of musicology and comparative literature with literary theory at the Universities of Ljubljana and Regensburg (where she spent a year as an Erasmus student), Katarina Šter graduated with theses on the chorale settings in Bach cantatas and on Schiller's Letters upon the Aesthetic Education of Man. In her following doctoral studies of musicology at the University of Ljubljana and at her work as a junior researcher at the Institute of Musicology at the Scientific Research Centre of the Slovenian Academy of Sciences and Arts (ZRC SAZU), she embarked in studies of medieval liturgical chant with Prof. Jurij Snoj as her mentor. During her doctoral studies, she was able to enrich her knowledge of Gregorian chant and its performance with Prof. Franz Karl Praßl at the Artistic University of Graz (Kunstuniversität Graz) with the scholarship Go Styria!, as well as to research the sources at the Bibliothèque Municipale in Lyon with a research grant of ZRC SAZU. In 2010, she was awarded her doctoral degree with a thesis on characteristics and interconnections of six medieval antiphoners of the Charterhouse Žiče preserved in the University Library of Graz, for which she was awarded the Silver Order of ZRC (a special prize given for the excellence in dissertation theses) in 2012.
Katarina Šter is currently a research fellow at the Institute of Musicology ZRC SAZU where her work is focused primarily on the medieval musical traditions of the monastic orders. Of special interest to her is also the relationship between words and music in early vocal music. She presented numerous papers at the conferences in Slovenia and abroad, and published several papers on Žiče musical manuscripts in various musicological and other journals. In 2013, she won a postdoctoral project Forms and transformations of the monastic musical traditions in medieval Europe, financed by the Slovenian Research Agency (ARRS). In connection with her most recent work on the relations between the Carthusians and other traditions, she was carrying out specialized research at the Schola Cantorum in Basel with the Swiss Government Excellence Scholarship in the academic year 2014/2015 and with the scholarship for International Short Visits of Swiss National Science Foundation in 2016. There she is currently also a student of Specialized Masters in Music Performance in Medieval and Renaissance music.
Research areas
Musicology H320
Recognitions & awards
The ZRC "Silver Sign" Award (2012)