The Institute of Musicology was fouded as a result of the organisational work of Dragotin Cvetko, who had previously founded the Department of Musicology at the Faculty of Arts in Ljubljana. Cvetko had formulated the idea of founding an institute of musicology in the 1970s, and this was realised in 1980 when through his efforts the Institute of Musicology joined the other existing institutes of the Slovenian Academy of Sciences and Arts. Cvetko became its first Director and President of its Research Advisory Board; Dr Danilo Pokorn took on the function of secretary in addition to research work. The Institute of Musicology was conceived as an institution that would specialise in the study of historical musicology in the Slovenian lands within a conceptual scheme of national academic science. Its founder Dragotin Cvetko judged that the proper place for such an institution was the Slovenian Academy of Sciences and Arts, since a number of other institutes dealing with systematic academic studies of various material and spiritual manifestations of the Slovenian nation (language, literature, art history, history, etc.) already existed there.
Upon the founding of the Scientific Research Centre of the Slovenian Academy of Sciences and Arts in 1982 and the reorganisation of the institutes, Cvetko remained President of the Research Advisory Board while Danilo Pokorn took up the position of Director, heading the Institute until 1992 when he was succeeded by Dr Ivan Klemenčič who carried out the function of the Head of the Institute (the function had been renamed) until 2004.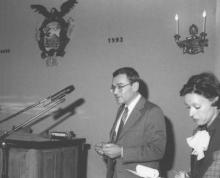 In the 1980s the Institute had four normally resident fellows in addition to Dragotin Cvetko, and this number increased during the 1990s. During the 1980s and 1990s the basic research work of the Institute, formally carried out within the Academy research programme on the National and Cultural Heritage of the Slovenians, included the inventory and critical publication of important sources for the history of music in the Slovenian lands on one side, and their academic study on the other. In this vein the collection Monumenta artis musicae Sloveniae was launched in 1983, and is still in circulation.
As a member of the Slovenian Academy Dr Dragotin Cvetko was well aware of the importance of foreign ties. Immediately upon its foundation he drafted a plan for the Institute to host an international scientific conference every three years. The first conference, organised by the Institute, was held in October 1982; it was dedicated to the Slovenian opera on the occasion of the presumed two hundredth anniversary of the production of Jakob Zupan's Belin. The conference was accompanied by a temporary exhibition (on the photograph Prof Cvetko guides the participants of the conference through the exhibited items).
25th anniversay of the Institute of Musicology (2005)

In October 2005 the Institute of Musicology celebrated the 25th anniversary of its activities. The members of the institute organised a press conference, an exhibition on the institute's history and a concert.