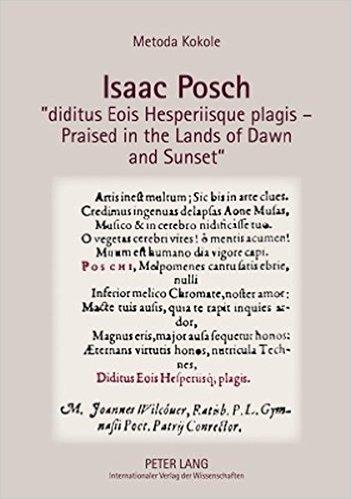 Isaac Posch. «diditus Eois Hesperiisque plagis – Praised in the lands of Dawn and Sunset».

Author: Metoda Kokole
Year: 2009

Isaac Posch (c. 1591-1622/23), "praised in the lands of Dawn and Sunset", was an intriguing early seventeenth-century composer, one of those still little-researched Kleinmeister who forged the musical culture now considered as a European heritage. Between 1618 and 1623 Posch committed to print in Regensburg and Nuremberg three musical collections: two of instrumental dance music and one with small-scale Latin concertato motets. The dances of his print entitled Musicalische Ehrenfreudt were intended for actual dancing, a practical aspect that the book also considers. Taken as a whole, Posch's music constitutes a most interesting instance of the merging of elements taken from various European styles: German, Italian and even English. This monograph is a revised and enlarged English version of the Slovenian original, first published in 1999 and based on the author's award-winning dissertation at the University of Ljubljana.
---
Author

Publishing House:

Peter Lang

ISBN

978-363-157-593-2

Year

2009

Language(s)

Specifications

paperback 23,5 × 15,9 cm 350 pages

Permalink